Collaborate
Krisol, espai per als infants is a non- lucrative association formed by families, teachers, and well-wishers. It was born in 2004 in Premià de Dalt, Barcelona. At the moment it manages and develops an"Espacio Infantil de Atención Diurna" which is a daycare space for children (2 playing groups from ages 3 to 6, corresponding to kindergarten grades) and also the Escola Krisol Waldorf-Steiner (primary school). Both following the Waldorf Pedagogy.
In 2018, after some hard work our primary school got officially certified by the Departament d' Educació de la Generalitat de Catalunya. And now we are working to achieve new challenges: the consolidation of primary school and the certification of our kindergarten. We are renovating Can Balet-Vila Matilde (where we have been since 2016) to get the approval from the Departament d' Educació and the certification. Our ambition is to renovate the building and its exterior and build new structures to provide our children with healthy surroundings that allow them to grow accordingly. We do not receive any grants, meaning we only depend financially on the fees paid by the families. This is the reason why, we need all the help we can get. You can collaborate with us!
We keep growing and we want to become a real and solid alternative for everybody. That is how we can create a community dedicated to education and social transformation.
Become our supporter, your help is important!
What does it mean to be a Krisol supporter?
A Krisol supporter is someone who believes in our project and wants to be involved. Someone who wants to be part of our growth as a school and who is in favor of giving children a worthy and loving education that allows them to respect each other and the environment, making us all better as a society.
The money gathered by the supporters is used directly for the development of the project, making sure the children get the right materials for daily use, that the buildings are in good shape and providing scholarships to those families who might have financial difficulties and finally to promote activities such as workshops and talks, fairs and other events that allow us to open up to the rest of the community and spread the word about our project.
As a supporter, you will also have the opportunity to take part in the activities of the Association, getting discounts and tickets to discover our delicious culinary creations.
I want to be a Krisol supporter !
All the people, families, friends, neighbors, well-wishers and followers of the Waldorf Pedagogy who believe in our project and can support us, once or on a regular basis, can collaborate with Krisol. And if you know others who would be interested and would like to help us, we invite you to share the information with them too. The more we are, the further we can go!
What do I have to do ?
You just have to fill in the registration form. You will receive a small gift from us as a symbol of our gratitude and the path we will walk together.
Thank you for your support, together we are building a different world!

Gift for the new grandparents. Pack of 3 precious postcards. Watercolor paintings by our kindergarten teacher Carolina Torrecilla.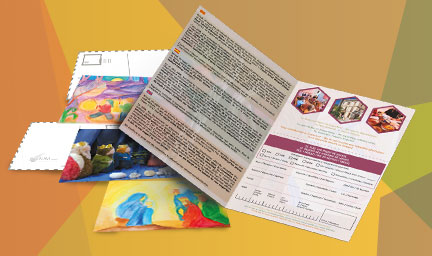 Yes! I do want to be a Krisol supporter
PRIVACY POLICY
All the given data in this registration form will be handled by Krisol, un espai per als infants with the objective of attending your petition and inform you of our activities. You have the right to access, correct, delete and limit the handling of your data by means of a written document containing your signature and ID sent to [email protected]