Language is a means of communication between human beings, and the result of the ways that peoples of a language have come to terms with their environment. But our thinking could not construct a grammatical system, because language is required for that. People do not first possess self- awareness and then communicate it, rather they acquire self-awareness by communicating. It is not human beings who create language, says the philosopher Johann Gottlieb Fichte, but language creates them. Our whole way of thinking is, to begin with, determined by the language we speak. The contemporary philosopher Peter Sloterdijk described the effect of his mother tongue:
Even though I owe orientation and the ability to act ….to language, I also know that is has merely taken possession of me like a pirate who boarded my life when it had cast off some distance from the maternal shore….Language has long turned into the captain; with extensive authority it decides upon most things that happen on deck, and also about many matters that happen below deck.
We are at the mercy of the patterns of thinking contained in our mother tongue. But it is well known that once we start learning another language, we also begin to think differently. Every language has its own thought forms. Where the English say I am right, the French say J ́ai raison (literally: I have reason), the German say Ich habe recht (I have right). The English pride themselves on a sense of humor, and the French on savoir vivre (to know how to live, or a way of living). The Spanish pensar en (literally: think in/on) which has its analytical connotations, whereas the English think about suggesting that one goes around the subject, viewing it from different angles. Each language can be compared to an instrument in an orchestra. Each has their own genius but also their own limitations. On many occasions I find myself mixing languages because only one holds the essence of what I truly mean.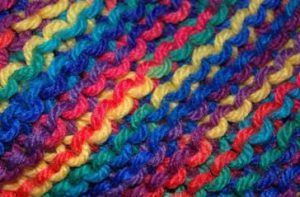 Language, for the able of hearing and seeing, is an understanding of sound, sight and feeling. A widely accepted study by Dr. Mehrabian conducted in the 1960 showed 7% of language to be verbal, 38% vocal and 55% visual! Rudolf Steiner describes language as being caused by emotions: Human speech is the expression of these sympathetic or antipathetic activities. If we can go as far as to be internally moved by another language, it has even more opportunity to make it ́s impression, it ́s imprint on our being.
Foreign language is the gateway to understanding a particular folk who have their own individuality, musicality and expression but also represents an opportunity to understand the world and ourselves. For as we take in a second, and third language, we also give more thought and life to our mother tongue. If we are able to capture the profound genius of another language, we can further our understanding of another nation, another way of relating to life, another thought process, developing our understanding, expanding our range of inner sensitivity. As the philosopher Hans- Georg Gadamer put it, the limit of our language is the limit of our world. By growing into another language, we can thus create a balance in our understanding of the world. By sharing language, we can strengthen the principle of mutual respect, awaken forces of love and affection and create inner prerequisites for boundless, human understanding so that a true sense of brother/sisterhood may arise among all human beings.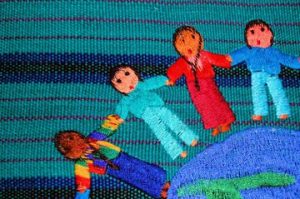 Every newborn baby arrives with the capacity to learn any language in the world to perfection. If the environment of a foreign language is connected to the emotions, we are better able to unfold the capability that already lives in that person. Sharing literature is an invaluable path to reach that emotion, acquire an ear for the language and experience it ́s essence and culture. I would therefore like to share a list of book titles for reading to children; which I have broadly grouped by levels, but is by no means restrictive in age or level:
For the lower classes:
The little red hen (fable first collected in the US in 1874)
Mr. Gumpy ́s motor car by John Burningham (olde British)
We ́re going on a bear hunt by Michael Rosen (great for EFL)
The Hungry Caterpillar and The tiny seed by Eric Carle (the US author) Hairy Maclary and Zachary Quack by Lynley Dodd (wonderful English pros)
Handa ́s Surprise by Eileen Browne (a tale from Kenya)
The gingerbread-boy by Uta Taylor- Weaver (collection of stories, songs and poems)
And more for young native speakers: Grandmother Lucy goes for a picnic by Joyce Wood (a warming story) Alfie gets in first by Shirley Hughes (very British)
The wind in the willows by Kenneth Grahame (a Scottish classic)
For the middle classes:
What could it be? by Nandini Nayar (India)
The tunnel by Anthony Browne (classic modern US author)
The gift of the sun by Dianna Stewart (South Africa)
The magic paintbrush by Julia Donaldson (A classic modern British writer)
The Minpins by Roald Dahl (A classic British author)
Grandfather ́s pencil and the room of stories by Michael Foreman (very British illustrations)
EMILY (NOA AND ANAÏS' MOTHER AND PRIMARY ENGLISH TEACHER)